Restaurant
LA CARIHUELA CHICA
The staff working here make Restaurante Marisqueria La Carihuela Chica a charming place for families and group of friends. Its amazing views and high-quality cuisine make the perfect combination and turn your visit to Restaurante Marisqueria La Carihuela Chica into one of the best memories to keep from the Costa del Sol. An ideal place to enjoy the best fish and excellent rice It will discover the inseparable combination of an elegant atmosphere and a classic gastronomy with remarkable innovating elements. Between our specialties are the fish to the salt, fish to the furnace, rice, fideuas and zarzuelas de mariscos. In the end, it will not have more remedy than to prove some of our exquisite desserts. Come to visit us and we assured that you and your companions will absolutely leave pleased.
---
Always bet on the creative imagination and innovation
---
---
It is a perfect place for all kinds of business lunches, family, friends and all kinds of meetings and celebrations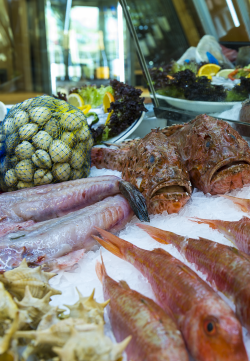 The raw material, our seal of quality and satisfaction guarantee
---
---
The best product in the market is our guarantee: selection of meats Premium, fresh fish from the fish market and seasonal products.
The aesthetics on food is based on the exploration of flavors
---
---
Now that you know a little more of La Carihuela Chica, take a look at what we can offer you.
Our kitchen
---
---
Opening hours
---